3803 Dortches Blvd., Rocky Mount, NC  27804  |  (252)  454-0101         

"Where Unique Outdoor 

   Living Begins"


Like Us on Facebook for the Latest Tips & Specials!

"No Occupation is So Delightful to Me as the Culture of the Earth, and No Culture Comparable to That of the Garden"        - Thomas Jefferson

Copyright 2011--Patios in Bloom, Inc.  All Rights Reserved.

Primo Grills and Smokers take outdoor grilling to the next level! 

Grill the juiciest steaks. Smoke savory fish or pork tender loin low and slow. Roast the perfect turkey or chicken. Bake cakes and warm, doughy breads.

Primo Grills and Smokers 

•  Are the ONLY American made ceramic grills 

•  Are hand-made with premium quality ceramic

•  Cook direct and indirect simultaneously

•  Have superior heat and moisture retention 

•  Burn less fuel

•  Offer up to 680 sq. inches of cooking space with Primo Oval XL 

•  Have a twenty- year lifetime warranty on ceramic parts 

•  Fuel with natural lump charcoal which is free of tar and other

   harmful chemicals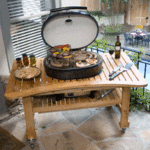 Click Images to Enlarge  >>

Gourmet Grillware - grill and serve in the same piece